Corfu Island
Known as the Emerald Isle, Corfu has two hundred kilometers of coastline with long golden, sandy and white pebble beaches and is among the most beautiful of all the Greek islands.
With its fascinating landscape of vibrant wildflowers and slender cypresses rising out of shimmering olive groves, surrounded by turquoise waters, it's easy to see why Corfu first attracted the British holidaymaker to Greece and why it is still so popular today.
The island has something for almost everyone! Its charming capital, Corfu Town, is an elegant place with fine examples of Venetian architecture. The west coast is famous for its long sandy beaches while the inland villages still preserve a life little changed over hundreds of years. The north coast has long beaches, while the north-east of the island is probably the least built upon, with winding roads leading up to Mount Pantokrator and down to pebbly coves with crystal clear water. To the south the landscape is flatter and the ubiquitous olive groves abundant.
Corfu is Greece's western gateway and entrance to the Adriatic. This enviable position is one of the main reasons why it feels more 'Western' than most other parts of Greece. Almost 500 years of Venetian, French and British occupation have left their influence.
Approximately 120,000 people live on Corfu. Some of them do emigrate, attracted by life in the big mainland cities, but countless others have never left the island. Instead, the world comes to them. Yet despite this seasonal influx of visitors, the inhabitants retain a fresh, open simplicity. The Corfiot's legendary friendliness makes visitors feel very welcome. The Corfiot pace of life is casual and unhurried.
Corfu has absorbed so much yet changed so little. The modern world exists alongside a traditional way of life. This, together with the stunning natural beauty of the island, is what makes Corfu so unique.
Rent a boat in Corfu
Renting a boat in Corfu could be a lifetime experience. Through amazing itineraries for monohull, catamaran, skippered, crewed and bareboat yacht charters, you will explore hidden coves, remote islands, untouched beaches and a rich diversity of marine life.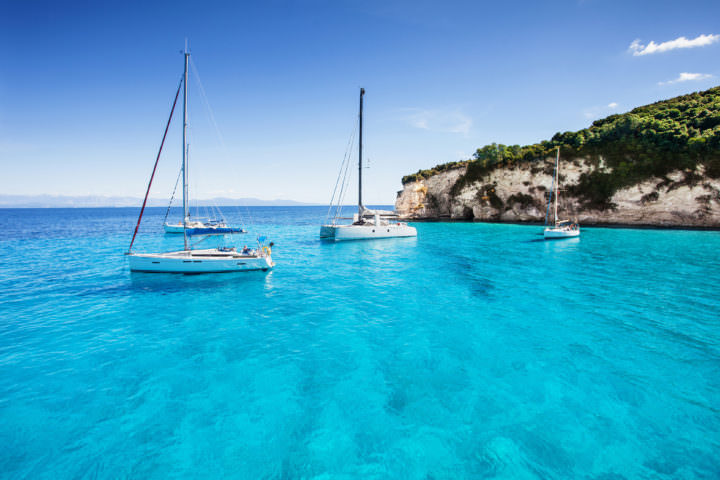 Sun Yachting Greece offers a range of charter yachts, including sailing yachts, catamarans, motor yachts and motor sailers for Corfu sailing vacation. Contact us and we will be happy to organize your holidays in the best possible way! We will be happy to suggest you the yachts, sailing areas and itineraries that best fit your needs in order to enjoy perfect Corfu sailing holidays!
Do you want to rent a boat in Corfu? We are the charter company you are looking for!