Sailing in Greece Holidays for Beginners
A sailing holiday in Greece to the uninitiated can be a daunting prospect – the lingo can be off-putting and impenetrable.
What is a yacht charter?
Do you need a skipper?
Is it very physical?
How about costs?
Can it be good for families?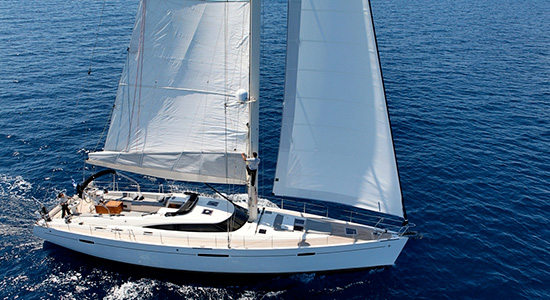 The answer is that sailing a yacht in Greece is very flexible, and there will be a trip, yacht and a destination to suit most people.
Staying on a chartered yacht in Greece for a week means exploring and taking your accommodation in tow – thus none of the packing and unpacking of other transient holidays.
You can sail almost anywhere in the greek islands and the greek seas offer a unique way of exploring well-trodden tourist tracks, allowing sea access to spots that are difficult or impossible to reach from land.
It doesn't need to cost the earth – sailing can work out cheaper than a hotel or villa. 
The wheel in your hands. The greek islands at your feet.
With no one to tell you what to do, where to go or when to get there, a bareboat charter sailing holiday in Greece is your chance to explore new cruising grounds at your own pace.
Squeeze in as many overnight stops and daytime anchorages as you like, or take your time and make the most of every destination on your itinerary.
On a bareboat charter in Greece you have the freedom to discover the best sailing destinations on your own terms.
Sail one of our suggested itineraries or strike out on your own in search of adventure.
Relax and hire a skipper to take the helm, or even book a chef to prepare delicious regional delicacies in your own galley. If you're looking for adventure, it doesn't get any better than a bareboat charter sailing holiday in Greece.