What are Flotillas - Flotilla Sailing Holidays in Greece
A "Flotilla" is defined as a "small fleet." Today, flotilla bareboat sailing is best characterized as a group of sailing yachts that follow a "lead" boat to each anchorage. The sailing professionals on the lead boat act as tour guides with fun and relaxing itineraries, take care of all the navigation, and generally eliminate all the "leg-work" involved with preparing an exciting and safe sailing trip.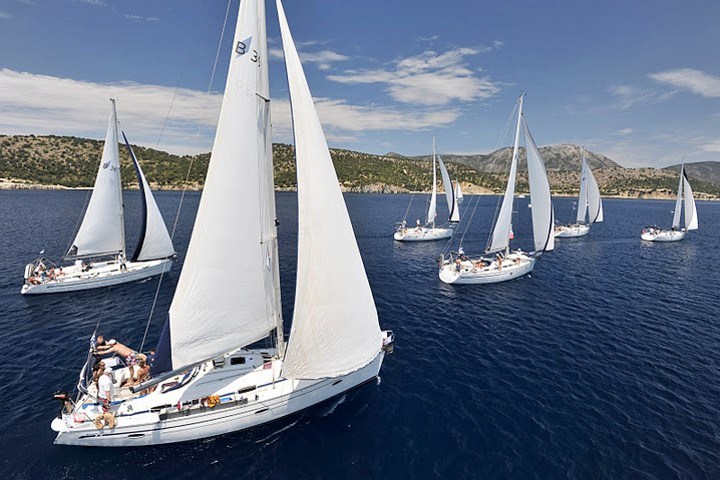 Recreational flotillas were created to accommodate yachtsman that have less experience, want a more carefree sailing atmosphere, and simply enjoy traveling with others in groups. Flotillas are also a wonderful way of learning how to sail independently while still enjoying the comfort of knowing that other experienced parties are in the vicinity if anything goes awry.
Bareboat flotillas were pioneered commercially in the Mediterranean over 20 years ago and have since become a very popular choice for adventure loving people that also enjoy relaxation and the company of others. Its popularity is most concentrated in the Mediterranean and parts of the Caribbean. Greece remains the hub of most flotilla sailing vacations. The Northern Sporades are an exceptionally beautiful place for flotilla yacht charters, and there are top flotilla sailing vacation spots found in the Argolic Gulf and the Saronic Gulf in Greece. Basically, flotillas are primarily found in the eastern Mediterranean or in the British Virgin Islands, but they can also be found in other mild and warm climates worldwide.
Flotilla Characteristics, Features & Benefits
Perhaps the best feature of bareboat flotillas is that you are relieved of navigation and mooring worries. The bareboat base and the lead boat skipper work carefully together to create exciting itineraries for both one and two week yacht charters. The routes and time-schedules they choose are relaxing, but still allow for lots of sightseeing and exploration. Besides informing the group of any hazards on route each morning, the skipper will also sometimes stop on route and show the group beautiful and unknown coves, coral formations, and diving spots. Much of the knowledge passed on to the group by the lead skipper would otherwise go undiscovered if you were sailing on your own. With flotillas, you have the luxury of seeing more than you might normally, but without worrying about anything except following the lead boat and the other boats in your flotilla. No planning, no navigation, no worries!
Flotillas generally travel behind the lead boat in groups of 5-12 boats. Sometime the group spans a distance of 10-15 miles while sailing. If you have relatively little sailing experience, the skipper will usually, ask that you be one of the first boats to follow. You can also be close to follow the Skipper if you choose. Conversely, if you are more experienced, you are free to stay behind longer, or even set out ahead of the lead boat in the morning if you wish to arrive at the anchorage earlier so you have more time for afternoon exploration and shopping at the next anchorage. While most flotilla locations boast mild sailing conditions, some spots require more skill. It is recommended that you research the location first if you are not a confident sailor. Sun Yachting Greece will help you find a location suitable to your skill if this is a concern.
Another important benefit of flotillas, even though it is seldom realized, is that if anything goes wrong with your boat, there is always a professional skipper/engineer available on the lead boat. You are always within radio-contact with your flotilla and the lead boat. They are not just there to do all the navigating for you...they are there to help you if there is an emergency.
The lead boat also usually comes with a hostess that often acts as your tour guide at the various anchorages. This enables you to explore all the relevant and interesting places at each destination without getting lost, or wondering what to do. The lead boat crew is also generally very knowledgeable of each anchorage destinations, and will often suggest great local restaurants and shops unknown to the common tourist.
As opposed to the "normal" bareboat charter, flotillas offer a great way to meet new people and socialize. In the evenings when everyone is anchored up, there are usually social gatherings, which are great if you have kids because they will always have someone to play with. It is also fun for the adults to enjoy diners and conversations with the other families or couples. Families in flotillas often relish being with others in the evenings, but also enjoy living as a family unit onboard for the voyages during the daytime. Flotillas, like bareboat charters, are a great way for your family (or friends) to rekindle and strengthen bonds without driving each other crazy 100% of the time!
Flotilla Considerations
Flotilla's are generally for inexperienced sailors and people that don't want to worry about navigation, moorings, or challenging seas. If you are an experienced sailor and want more independence, or if you simply prefer traveling in smaller groups (or alone), flotillas are not the best choice.
Flotilla holidays Greece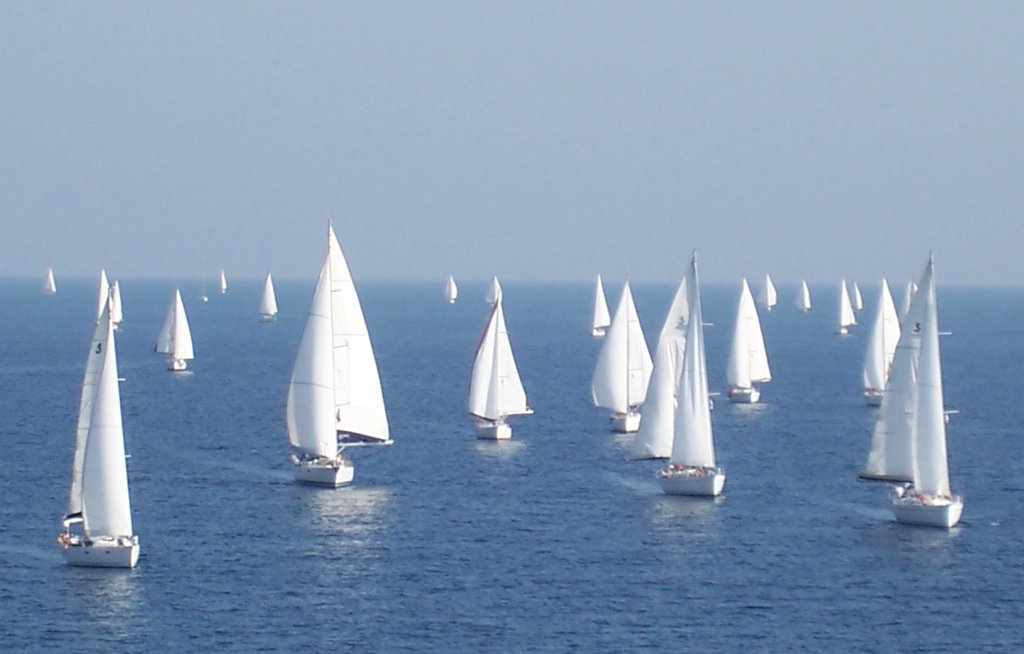 Sailing in Greece will offer you the chance to visit masterpieces of nature and swimming places via flotilla sailing holidays. Every itinerary to the Greek islands feels unique each time, no matter how many times you have done it. This is why it is very rare for someone to sail the Greek seas once only. Feel free to browse our fleet and contact us for more info. We guarantee your sailing experience! We are always ready to discuss your plans or specific needs and help you prepare your next sailing trip!